I really don't mind the Memories apps and On This Day links. I don't dwell in the past and it's nice to be reminded of some of the happy (and really sad) times. Today it reminded me of NOLA, and new friends, and hope.
Today, Google Photos greeted me with pictures from my very first trip to New Orleans, LA. I was in town for three days to scout locations for a movie that was going to be made from one of my stories. I was excited to be embarking on what I knew for sure would be a huge turning point in my career as a writer.
The producer seemed nice and was driving in with one of his crew and one of the actors. I flew down, the quick turnaround predicated the rare travel by air, and arrived a half a day ahead of them.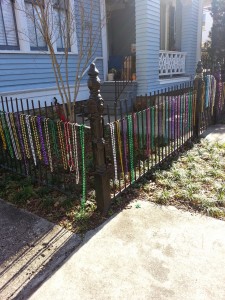 NOLA was about to experience the Super Bowl (XLVII), as well as an early Mardi Gras. It was my first stay at the Fairchild House, a B&B I will always recommend with great enthusiasm for visitors to New Orleans. Word had quickly spread among the other guests that a writer was staying there, and the new found attention was strange, but amazing for my ego.
I took a walk to Lafayette Cemetery and had lunch at a local chain restaurant. I met up with the gentlemen later and we wandered the French Quarter. Over the course of the evening, I laid eyes on Guy Ritchie, had drinks in the Quarter, and felt safe and protected in the company I was with. It was three days of pretending I would be a director in just a few short months. Three days of standing on the edge where dreams become reality.
The thing with memories, is knowing you can enjoy them in their moment. If I'd known in January of 2013 that in June of that same year, it was all for nothing and I would be nearly crushed by abandonment and sorrow, I obviously wouldn't have had as much fun. I know that's the point of memories, to live like they're the best days of your life and they'll never end. I was able to live fully in those moments that weekend, chatter happily about future plans, get giddy about scripts and rewrites, look forward to a bright challenging future of shoots and resets.
I can sit here three years later and say it was for the best, but I can't really know that. It still hurts to think about, how it all ended with a few vague texts, no explanations and the realization that narcissists come in every flavor, and when they aren't gambling with their money, they're free to walk away from the table when they get bored.. It's inexplicable to me how there are people who live in other people's fantasies, stoking them to roaring fires, only to piss them out with a shrug.
But …
On this day in 2013, I arrived in New Orleans, LA, with a script and a head full of ideas on how to shoot a 35-minute movie in under a week. I arrived anticipating the company of new friends, good food, and great conversation. I had a blast that weekend.
Brief gallery:
Full photo album on Flickr.
We all want to have New Year's resolutions that have meaning and impact and we hope when we look back on them a year later we're not deeply embarrassed.
For the record I always am.
Every year I want to wrap up the novels I have in progress and get them edited and submitted, and before too long it's March, then June and I have other commitments and then it's September and then the holidays and when I finally take a breath, it's January again, and nothing has been accomplished.
I'm 43, you'd think I'd be on top of this by now.
So again I tell myself, I am going to finish something this year, more than the three or four stories I get published in various respected venues.
A few nights ago, I made the pointed decision to not sit on the couch and ignore football while I scrolled through the same useless memes on Facebook. Instead I went to the bedroom (the apartment is only but so big), pulled out the bed tray, and gathered all the materials my high school English teacher said I'd need to write a term paper – a pen, a notecard box, and index cards. Earplugs inserted to drown out sports sounds, I set to actually outline one of my languishing WIP.
Some authors don't work with an outline, believing it stifles creativity. Personally, I need to see where I'm going. Give me a destination and a few identifying landmarks, and I'll get there. With the WIPs I've had in my back pocket for an embarrassing long time, I didn't know where I was going. I have strong starts and some fantastic middles, but as far as ends – I suppose I figured they would come to me in some great revelation. It's been a few years and none of those revelations have presented themselves and the background processes aren't even running anymore.
It's disheartening.
So, I crawled into bed and got comfortable. I counted out 50 notecards. I made sure all of my pens had ink. I did something I really hadn't done in years.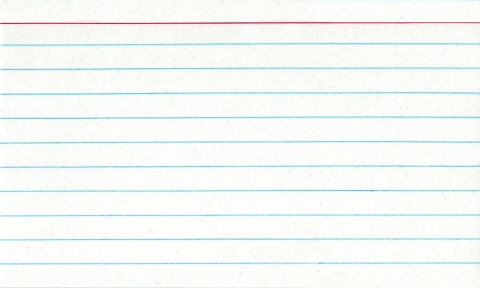 I brainstormed. I wanted to start with my novel Never, since it's making the most noise in my head lately. Every idea that popped into my head, never mind the feasibility, got its own card.
First I did character cards – name across the top, four quadrants of Background, Motive, Faults, and Goals (or something similar, I don't remember specifics offhand, I wasn't really going for uniformity). I needed to reacquaint myself with the people I gave birth to. I discovered much to my horror that for all of my fascinating main characters' traits in all of my fantastic stories, I didn't have a single driven motive for any of them. I have this great character, Penda in The Cat Dragged Inn. She has a life, a history, and a purpose. I stuck her behind a bar and gave her nothing to do, because I suck. My Main Character was a ghost in her own novel.
The same with Never. Broken main character, does absolutely nothing.
That hurts.
After my character cards, which I would (and will continue to) write as the characters come to me, I put one thought about the WIP on each notecard, and no more than a sentence. These ideas may or may nor work – when you brainstorm, practicality doesn't matter – and in about an hour, I had over 50 notecards of ideas alone: things that my characters were doing, things that were happening to them, settings, places.
You know what I discovered?
My Main Character wasn't my main character anymore. She had nothing to do because the story wasn't about her. I focused on the action with other characters, the dynamic make things happen characters. Never took on new life and better still, I can use the existing framework. The person I thought was my Main Character drifted to secondary plot point – and was happy there.
I could stop shoehorning her into the role of MC because it's not where she wanted to be. She lacked substance, she was boring. She let things happen around her and she reacted.
No one wants to have that friend, and no one wants to read a while novel about her.
I sorted my notecards into a basic timeline and found very few ideas didn't work at all. They've been set aside, for now. There is still life in them, just not right now.
These other cards – now we've got a story. A relief, actually. I have something I can work with. Never is shaping up to be a very dark story in a tangential universe of a familiar tale. Some people won't like it, but I don't think I can worry about those people. I want to find a few hours every evening to do the same with the other two novels – jusy sit in a quiet room, pull out my notecards, and scribble lives and adventures and mayhem.
That makes my the resolution for the first quarter of 2016 to conquer the fear of completion. I am actively removing the roadblocks that exist only in my head to get these stories finished. I don't have a deadline to have them completed because I need to conquer one hill at a time. This month's hill to climb is progress and completion.
I really want 2016 to begin like 2015 ended – semi-productive and relatively happy.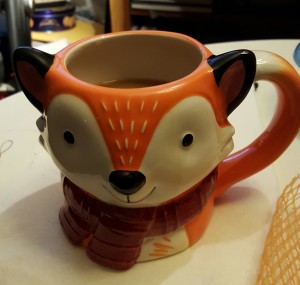 Here's what you may have missed:
I became a film reviewer for Film Obsession. I've seen lots of films I wouldn't normally catch, like Concussion and The Danish Girl, and I've been fortunate to see Victor Frankenstein. Maybe you'll be interested in my thoughts on some straight to VoD horror? If you'd like to see my evolution from casual observer to respected film critic (a long term work in progress), all of my posts are here. Like, comment and share! #moviegoals
I slacked off horribly on my running, especially after making such a thing about running 50 Miles in the month of November (a few posts back). Instead I spent the last month's of 2015 not fitting into clothes and generally griping about my weight while eating lots of rich holiday food. For 2016, I'm training for a half marathon. I ran a few 5Ks and a 10K last year, but nothing after August, however what's another 6 miles on the course? Official training starts 1/4/16 combining strength and stretching with stamina. I'm combining a Nike Run/Training Club program (21 Days of Better for It [No Pain, No Gain]) as well as a Half Marathon training guide I found online. I'll look for a race to run in April. I'll look for a new wardrobe in May. You can follow me on Nike+ (under my name), and if you're looking for a little competitive fun, add me and we'll challenge each other. #clothinggoals #bodygoals
My laptop is on its last leg. It freezes frequently, and because I really want to get into the habit of writing in the mornings, it's refusing to cooperate by not starting up on demand. Not sure if I'm going to spring for a new computer just yet, so I think I'll stick to longhand for the time being. I want to get away from writing at work, because it let's me off the hook of writing at home. I need to manage my time better and that's all of my time – work is for work, and home is for creative productive enterprise. I'll find a balance, and I can't let tech get in the way. Two novels ready for submission in March. One novel reading for final editing in June. A short story every month. If I have to burn through every blank journal I own, plus three more, I'm okay with that. #I writinggoals #deadtreegoal
I wrapped up a few knitting projects in 2015, and 2016 needs to find me spending more downtime not plopped on front of a bad movie, but knitting and work my way through at least 15 projects on Ravelry.com and 30 audio books and regular podcasts. Movies are fun, but they're time killers. I can blow entire weekends watching garbage, and it's not helping me on any level. #fibergoals #focusgoals
Finally, I've written this completely on my Phone (Sakakibara). The Netbook (Dorothy) is too slow (in the time I've typed this, it would sill be loading the start screen) and I'm not yet used to the keyboard on my Tablet (Delphine). I am determined to not let tech get in the way of writing, and I've been meaning to get in a new post for the year since the 1st. There will be typos and weird mistakes I'll miss, and I'm sorry if it's less than Professional the first time through. I'll clean it all up on the back end as I make "self editing" another goal. #grammargoals
Pardon the dust as I start renovations on the 2016 Me. It'll be just like previous Mes, only satisfied creatively and personally (and ideally 20 lbs lighter).
I tried to kill myself when I was 12 – June 7, 1985.
It was the end of a bad year for me. I had transferred schools from a parochial school environment where I'd been for the previous 7 school years, to a public school that I actively hated. The students were bad, the teachers were unenthusiastic, and the friends I'd managed to make did not have my best interests in mind.
So after a year of skipping school and wearing makeup and that one time I kissed a girl and learning exactly how different I was from just about everyone, we'd rolled into summer with nothing but time and attitude. June 7 was a bad day that made so by poor choices and tween attitude and the kind of deeply selfish entitlement that only girls on the brink of puberty can pull of successfully.
And when it was over, I was done. I wasn't depressed, I was angry. I wasn't unbalanced, I was deliberate. I didn't think the world would be better off if I wasn't in it – I knew it would be worse. I wanted people to suffer. There isn't a word for that kind of self-harm, other than selfish or vengeful. I'm a child of wrath, I knew there were people around me who cared, but they didn't care enough so they could all just eff. right. off. Nobody liked me, everybody hated me, so I mixed up everything in my chemistry set that had a skull and crossbones on it, drank it and because at heart I am a completist, took a razor to both wrists.
When I woke up the next day I felt like the biggest (nauseous) failure in the world. Suicide was one more thing I couldn't get right. Suicide does not bring families together and my relationship with my family is likely different because of it. I struggled for months afterwards. I sporadically attended counseling. I made up lies to explain the scars. I remember the last family reunion I attended was in 1990 and my dad insisted I wear sweatbands because he didn't want anyone to know I was crazy. It was a sensible fashion choice, if indelicately stated.
I stopped lying about it maybe 20 years ago. It was who I was and I'd made peace with it. I don't even see them anymore. I don't hide them or make excuses. Now, if anyone even notices, they don't bother to ask.
Or they don't know how. That's okay too. I'd tell them when I was 12 it was the last bad choice I'd made at the end of a day of bad choices. They were my first tattoos, and when I bother to think about them, they're a reminder that some days I will make bad decisions that won't do anything but make the people around me miserable and distant, and I should really make a point to do better.
A few people that know have asked me why I don't yet have a semi-colon tattoo. It's grammatically incorrect, for one. But the bigger reason is, I already have a permanent reminder of one bad day (in a life that will likely be full of really bad days). I'm not comfortable with a trend to "raise awareness" of an issue that you'd have to be a narcissist to be unaware of. I'm not your Enlightenment Sherpa. You want to do something? Support mental illness funding. Erase the stigma of different and other. Be less of a dick to people having a hard time. Better, be less of a dick.
Today I turn 43. I am 30 years from that angry child. Lots of great things have happened in my life, and I like to think I'm a pretty great thing happening in other people's lives.  I'm a wife, a best friend, a sister, a niece, an aunt. I'm an author, a knitter, a chauffeur, an aficionado of most things creepy and horror, and I've got more friends than I thought I'd ever have.
So this mostly depressing post is really more life-affirming. 43 years down, and another lifetime to go.
I can do this.
This would normally be where I post that I'll doing NaNoWriMo and I'm super gung-ho to complete a(nother) novel and maybe even post some ridiculous first jump stats of 2,500 words or something.
But not this month.
I know I can write novels – I've got three in progress. I know I can write every day, so this month's challenge isn't about words or fingers on keys.
My last run was in August, the Cruise in Shoes in Royal Oak. I did an okay 5K time (37:17) and I'd even started looking at other area 5K to run. Then life happened and the time I was setting aside for running I spent on completing other projects, like writing, formatting a few anthologies and outstanding yarn crafts. I did a few days here and there, but nothing special.
I fell off the wagon and into a bowl of chocolate cherry cordial ice cream, a carrot cake, some Little Debbie Swiss Rolls and my sister's Mac and Cheese. I'm carrying a little more weight than I'm comfortable and it's time to get it gone. I love running in the cool weather, and because it'll start getting dark about 2pm I'll rearrange the running for the morning. With the motivation and the enthusiasm, I just need a goal.
50 Miles.
That's what I want to do this month. While my fellow wordsmiths are racing towards 50,000 words, I'll be racing towards 50 Miles. Not a lot for some of my more experienced running friends, but this is me, and I need to start small. Supplementing this will be my new fitness app, the (7 Minute) Superhero Workout. Running for me isn't enough to tone – I need to move my body and do crunches and stretch, so why not save the world while I'm at it. I'm rewarding myself with a Runner 5 long-sleeve t-shirt in December.
#clothinggoals
If you'd like to virtually run with me, we can be friends on Nike+ Running app. I'm not hard to fine – I'm me after all.
Good luck to all of us, whether running or writing!
We all start somewhere. This is where I start today: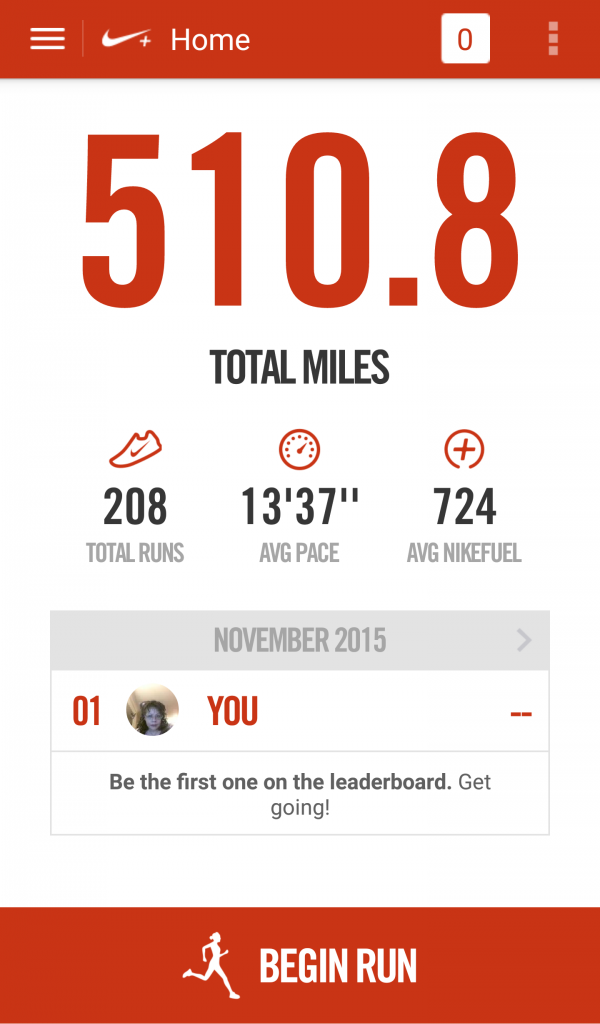 Any comers?
I won't be following this super closely, as I'll likely be running four days a week and November is only five weeks by a few days, but it'll be a guide in case I get off track (from Active.com):


First week: 2.6-mile run, 2.7-mile run 3.7-mile run (total: 9 miles)


Second week: 2.3-mile run, 2.6-mile run, 3-mile run, 4-mile run (total: 11.9 miles)


Third week: 2.3-mile run, 2.6-mile run, 2.3-mile run, 5-mile run (total: 12.2 miles)


Fourth week: 3.6-mile run, 2.6-mile run, 3.7-mile run, 2.6-mile run, (total: 12.5 miles)


Fifth week: 2.6-mile run, 5-mile run (total: 7.6 miles)


Good luck!
In 1871, Isaac B Points settled in Blount Springs, AL with his new wife. To say they were became part of the history of that area would be gilding the lily, but as strong footnotes, they served others in ways only kindness can make permanent. This is a loose remembrance of my week in Blount Springs 143 years later.
In 1871, Isaac B Points settled in Blount Springs, AL with his new wife. To say they were became part of the history of that area would be gilding the lily, but as strong footnotes, they served others in ways only kindness can make permanent. This is a loose remembrance of my week in Blount Springs 143 years later.

Picture by Wuxi on Flickr
Feeling like you're drifting all alone in the once-fun-but-now-too-quiet pool of Livejournal? Not to worry!
silviarambles is running a friending meme!

Friending Meme for LJ Survivors - 2015 Re-edition


Please remember that friending frenzies work only if you spread the word, so, even if you're not looking for more friends, would you mind doing me a big favour and pimping the meme on your own journals?

Thanks!
If you like community radio and subtle horror mixed in with your trips to the Library, Welcome to Night Vale podcast is for you. (I just moved here, and I love it.)



Don't worry. Someday you'll find that person who is perfect for you. They can't hide forever. We have satellites.




— Night Vale podcast (@NightValeRadio) May 12, 2013
Twinkle twinkle little star/how I wonder what you are/what are you? tell us. we have your family/you aren't safe from us little star — Night Vale podcast (@NightValeRadio) August 26, 2013
You can tell us all your secrets. I mean, you absolutely shouldn't. We'll use them against you. But you technically can. — Night Vale podcast (@NightValeRadio) August 14, 2015
That which does not kill you only wants to watch you suffer a while longer. — Night Vale podcast (@NightValeRadio) April 23, 2014
The last thing I want to do is hurt you. And after that, the to-do list is complete and I can go home and watch TV.— Night Vale podcast (@NightValeRadio) August 1, 2013
I get my NVCR fix on Stitcher, but a few other places offer it as well.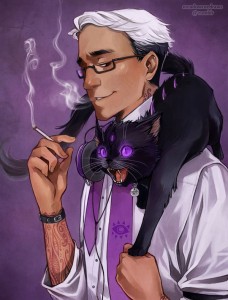 Good night, Night Vale. Good night.
Illustration by Meadow Rue

Don't be afraid. It's too late for that now.




— Night Vale podcast (@NightValeRadio) February 10, 2013