(there are prob­a­bly more than a few seams­peo­ple, but I wanted to throw as wide a net as possible)
This is my Dad.
He retired from the Detroit Police Force in 1996.
I wear this badge I pil­fered from my mother's jew­elry box many years ago. It has his badge number.
My dad used to wear this jacket and then he gave it to me. You'll par­don me when I say it's beat to hell, but it's true. Doug and I have dif­fer­ent rea­sons for want­ing to keep it (you prob­a­bly won't even have to ask him twice to tell you the Story), and Doug wears it mostly, but when I look at it I think of my dad.
I just want a new lin­ing put into it and the seams and cuffs cleaned up. I don't want it to look like new, I just don't want to lose my keys and loose change in the lin­ing of the pock­ets. The first few tai­lors I vis­ited said it wasn't worth their time. When I was finally able to get a price (what I though was rea­son­able for mate­ri­als and time), the gen­tle­man told me I would be bet­ter off just cut­ting off the D and sewing it onto another jacket. Then I could pitch the rest.
That broke my heart and I left.
This is my dad's jacket.  I can see him wear­ing it when he drove me down to col­lege, when vis­ited me in my dorm room, stopped by my first apartment.
Is there some­one out there that can put a lin­ing in my dad's jacket, clean up the cuffs and repair the frayed seams. It doesn't have to be per­fect, just wear­able. Please send me an email or com­ment here and quote me a price.
We don't just cut and sew the parts of mem­o­ries we think are worth saving.
The future has promised us a lot – fly­ing cars, per­sonal jet­packs, ten days aboard the Fhloston Par­adise. So far, despite advances in mod­ern med­i­cine and instant com­mu­ni­ca­tion, the future has been an incred­i­ble disappointment.
This future is empty.
Now comes Google Glass, a fancy wear­able com­puter that brings the whole of the inter­net to your right eye. Detroit's intro­duc­tion was held at the Museum of Con­tem­po­rary Art Detroit (MOCAD) in blocks of three to four hours. Hon­estly, I was expect­ing a 30-minute RonCo pitch with lots of excited hip­sters stroking their Movem­ber mus­taches while try­ing to not to look interested.
Instead, on a beau­ti­ful Novem­ber day, I stood out­side with long­time part­ner in crime, Dave, sur­rounded by inter­ested col­lege kids and Google enthu­si­asts thrilled to be a part of some­thing poten­tially big­ger, and we waited in a rel­a­tively short line to see what the fuss was all about. After drink­ing com­pli­men­tary hot choco­late and sign­ing some photo release forms we were ush­ered into another line to watch Google Glass head­sets shut­tle back and forth from a back room by Google Worker Bees.
Before too much longer we were herded into a more inti­mate group set­ting of about eight or nine and given a crash course on how to gen­tly fon­dle the head­sets. When they believed we wouldn't fall to the floor scream­ing like we'd been struck by the Spirit, we were briefly gifted a device and the Google Bees turned us loose on the floor. The head­set I was given had a tech­ni­cal thingy that was turned down so it ini­tially didn't rec­og­nize my voice – my nat­ural speak­ing voice is closer to a cas­trated mouse — but I was able to snap pic­tures and scroll through the menus by press­ing the but­ton on the side and swip­ing with warmed fin­gers. I reached out to a nice young Bee who was able to help this old lady adjust the vol­ume so the con­founded machine could hear her, and then I was off to the races. Sort of — I could have got­ten direc­tions to them at least, had I really wanted. The voice com­mands are much like what already exist on Google-enabled smart­phones – you can wake up Google with a sim­ple "ok google" and ask it a ques­tion. I use it quite a bit on my smart­phone for direc­tions  and store loca­tions when I'm with­out a nav­i­ga­tor in the car. It's like hav­ing Siri, with­out the emo­tional code­pen­dence and frankly, I'm not that lonely.
It has few but­tons, is very light and an awe­some sound con­duc­tor that sits on the cochlear bone behind your ear. That's how it speaks to you – dis­crete and unob­tru­sive – repeat­ing com­mands, trans­lated snip­pets of spo­ken words, what­ever audi­tory prompt you need. While the screen doesn't look like much when it's not you wear­ing it, it def­i­nitely fills your field of vision. Wear­ing one while dri­ving prob­a­bly isn't rec­om­mend, since most of us can't oper­ate the radio in a traf­fic jam.
It records like this:


Yeah, that's how cool it was.
Over­whelmed at first, I took a lot of pic­tures of the crowd, the walls of the MOCAD and Dave. I didn't ask it ques­tions like who the Lions were play­ing tomor­row (The Steel­ers) or what the weather was like (57 and sunny) because for me, that's not why I'd have such a device. I depend on my smart­phone (Galaxy Note II) to keep me enter­tained and tell me things like the weather and play music for me, but I don't know if I'd like to wear one on my face all of the time. I don't doc­u­ment every moment of my life, because I'm too busy liv­ing it. I'm not even the shut­ter­bug my mother is, with the hun­dreds of thou­sands of pho­tos mark­ing the years of my life from before birth through as recent as my June trip to New Orleans. There is a mod­ern imme­di­acy to com­mit every­thing to the inter­net for future pos­ter­ity, as if our own mem­o­ries aren't good enough – we need to show proof that we existed and expe­ri­enced things, where for me the expe­ri­ence isn't enough.
Of course I said that about not need­ing a fancy smart­phone with a touch screen, but if it were taken away from me I'd slip into a state of cata­tonic schizophrenia.
I couldn't give you a num­ber on how many folk attended but as groups of nine or ten cycled in and around the spa­cious gallery, it held eas­ily 50 peo­ple at a stretch, all chat­ting up Glass like sin­gles speed-dating. The Bees kept the peo­ple mov­ing and the event had a very airy open feel.
While the Glass expe­ri­ence was phe­nom­e­nal, unfor­tu­nately it wasn't long enough — though I would imag­ine even after an hour we'd all say that. All too soon, they col­lected the head­sets and ush­ered us into a recep­tion room with fancy nib­bles, cof­fee, soda, posters and a chance to really gush to each other what we expe­ri­enced. We briefly lamented that we hadn't snapped actual pho­tos of each other wear­ing the devices, because being con­sid­er­ate adults who don't take pic­tures of every blessed thing (I did check in on Foursquare), we hadn't been sure it was even allowed.
Luck­ily there was a Photo Booth with glasses to try on and an oppor­tu­nity to post the photo to your social net­work – prov­ing you were actu­ally there, because in this case, I was happy to share my experience.
Absolutely it's a cool device and I won­der about the actual prac­ti­cal uses of some­thing that allows peo­ple to live through you, instead of liv­ing. I won­der about upload­ing every moment of our lives so only the good parts can be played back over and over — or the bad parts thrown around like hot embers in dry kin­dling. I think about pri­vacy and fair use and the legal ram­i­fi­ca­tions of tech­nol­ogy that moves faster than laws can be adapted. Granted this is just the mus­ing of some­one who views the future with not a lit­tle trep­i­da­tion, and I'll allow myself a small cor­ner of fear for a device as poten­tially pow­er­ful as this – but I can set that aside for a lit­tle fan­tas­tic, sci-fi escapism.
I like it.
Glass, with its live demon­stra­tion, was very awe­some. That's my take-away from the afternoon.
If a Google Glass demon­stra­tion is com­ing to some­place cool near you, take a friend and expe­ri­ence the future together.
Google Glass, com­ing to cool peeps like us near you.
Current Mood:

impressed
I've spent the last sev­eral months mop­ing about what could have been and con­se­quently have taken my eyes off  the essence of what is me — the writing.
I'm absolutely sick about that.
Last week­end when I stared down the black hole that was my writ­ing career when my lap­top decided to take a dirt nap, tak­ing essen­tially 15 years of words and pho­tos with it, I pan­icked.  I hadn't cared much about putting words to paper, much less pix­els since the end of May, and what had been sub­mit­ted and accepted was token when com­pared to any num­ber of months in pre­vi­ous years. I'd opted out of NaNoW­riMo with a final­ity that sur­prised even me and cared not a whit about Kick­Off or log­ging or shared fre­netic word­play in semi-lit bars and cof­fee shops, and yet when Novem­ber 2 rolled around and my Sakak­ibara (if you know how I name my devices, that name will make per­fect sense to you) set­tled com­fort­ably in a cycle of reboot-cheery green screen announce­ment that it needed to reboot, I faced the very real pos­si­bil­ity that the sum of my writ­ing was for­ever lost. That alter­nate future is bleak, boys and girls.
I know in the­ory I strongly advo­cate back­ups, clouds and the redun­dant print­ing of every­thing for­ever, but I'd actu­ally neglected to back up any­thing in the last year, despite hav­ing sev­eral multi-gig SD cards, a DVR-drive, and a 1T exter­nal drive that holds noth­ing but obso­lete music files and pic­tures long since uploaded to Flickr. I was regret­ting this stag­ger­ing lack of fore­sight as the nice men at Micro­Cen­ter tried to calm a near-hysteric me. Long story that doesn't need rehash­ing to any­one but a priest,  all of my infor­ma­tion was safely backed up, Sakak­ibara is back home, and here I sit pon­der­ing what to do next.
This was like a near death expe­ri­ence for word­smiths, one I'd not like to repeat again, and as I rein­stall 107GB worth of  my life, I'm find­ing aban­doned sto­ries, for­got­ten snips. I don't mind telling you, I feel just a lit­tle worse about my sit­u­a­tion. I also don't mind telling you that I feel like a fraud and I hate that, too. It's a yucky lit­tle Shame Spi­ral and I'm hop­ping off this ride before I puke my cot­ton candy.
I'm not going to stand here and pro­claim I'm going to reded­i­cate the last 7 weeks of 2013 to writ­ing and sub­mit­ting, because only a fool lets her mouth write checks her butts can't cash.  I can, how­ever, say that every day it gets a lit­tle bet­ter and I hope to get back into a reg­u­lar groove again.
Not just because I'd like to fin­ish *some­thing* long form this year, but because there are too many undressed babies in to many fold­ers that need to get dressed and into lov­ing homes.
This post was brought to you by Kraken Black Spiced Rum and not a wee bit of guilt.
I was really set for this mini-series (this bit is impor­tant, but I'll be back) looked promis­ing, based on a book I really enjoyed. It's a typ­i­cal King Tale – small town, unusual cir­cum­stances, unimag­in­able ter­ror, more ter­ror from peo­ple who called them­selves "neigh­bors", FINALE!
I wasn't crazy about how the book ended and the rea­son behind the dome (I won't spoil it, but – really?) but like most Kind books, it's the Jour­ney, not the Des­ti­na­tion. I keep telling myself that because I really do enjoy the ride.
Then, the mini-series for Under The Dome was announced, and I got excited – not too excited, because we've been here before, with less than excit­ing results – because after Rose Red and Storm of the Cen­tury, two sto­ries that skipped book treat­ment and went right to pix­els, I was ready for some­thing I was famil­iar with.
*sigh*
Dur­ing the first episodes when my hus­band would ask me – "did that hap­pen in the book?" and me giv­ing a despon­dent grunt, I real­ized this wasn't really going to be what I expected. I under­stand com­pos­ite char­ac­ters and the need make things more con­crete for tele­vi­sion, but so much was dif­fer­ent right off the bat, I stopped think­ing "adap­ta­tion of" and more "based on an idea by some guy that sat next to a book by Stephen King once in a bus terminal".
I'm still sigh­ing about it. I would see it to the end, because I'm that kind of sucker, and I would do my best to get into the story. "After all," I asked myself, "it's only 13 episodes, so how badly could they screw it up?"
"We are going to make this suck so hard they'll be beg­ging us to can­cel it — you hear me!"
Photo Credit: TV | NEWS | TODAY
Around Episode 6 it was announced that it would be picked up for a sec­ond season.
Um … what? This is a mini-series. That doesn't mean short sea­sons, it means it'll wrap some­where around 13 episodes. At least it used to. Now it seems to mean test­ing an audi­ence to see if there's inter­est and then trolling out more episodes. So the answer was, "they're going mess this up badly, sister!"
Mr. King, you may approve of the changes, but then you also gave us Max­i­mum Over­drive and while I enjoyed The Shin­ing mini-series (see how that man­aged to stay a "mini-series") you could hear the unspo­ken expo­si­tion in the long shots of Col­orado and the Over­look. You may know from books, but when it comes to tele­vi­sion, your track record is depress­ing and dis­cour­ag­ing. Some­one con­vinced to you dis­mem­ber your own baby and reassem­ble it using parts of a slug, a fer­ret, and a rock. What­ever glue used isn't hold­ing and I fully expect the final sea­son will be released to DVD directly in frag­mented pieces and stick fin­gers. The sad part is only the most ardent of fans will care by that point, because this really isn't the Under The Dome we were expect­ing. We were expect­ing a baby with meth and pol­lu­tion and Saun­ders and all of the awe­some that the book showed us. We got a baby drawn on a piece of paper with holes cut out at the bot­tom so the doc­tor can make it dance with his fin­gers. It's not the same
In the hands of the right screen­writer and the right direc­tor, Under the Dome could have been some­thing worth tun­ing in for over 13 finite weeks. The mate­r­ial is there for 13 finite weeks, not 39 and sure as heck not over three sum­mers (Sea­son 3 in 2015? Really?). Tan­gents were cre­ated, new char­ac­ters are spun from whole cloth, and are we hon­estly tread­ing the "Mag­i­cal Chil­dren" waters again? If a "Mag­i­cal Negro" shows up, we will fight. The book had so much already there, and here we are 13 hours in, and none of it is hap­pen­ing. Mys­te­ri­ous char­ac­ters that just hap­pened to be in Chester's Mill show up out of the blue, char­ac­ters run as if there's some­place to go and hide in caves and mines and in a town of roughly 1,300, no one can find any­one. Any writer that tells you they can't take a book that was almost 1,110 pages and cre­ate a 13-week minis­eries is not only not try­ing but very lazy. We've prob­a­bly reached a new low.
*slow clap*
The mate­r­ial was there the devi­a­tions are so vast with this ridicu­lous "Monarch" sto­ry­line, and four mag­i­cal kids (rolls eyes), and so much stu­pid, small farm­ing towns all over the US feel a sud­den pres­sure to build Star­bucks and strip malls and dis­tance them­selves from the slack-jawed locals of Chester's Mill, it was squandered.
There, I said it.
This isn't The Walk­ing Dead. This isn't Sher­lock. This isn't Amer­i­can Hor­ror Story. Under The Dome isn't like any of those shows that leave fans slaver­ing for the next episode and the next sea­son, not because it's not on cable, but because some­where between hard­cover and screen, some­one tin­kered the soul right out of it. I can't say I'm giv­ing up on all King adap­tions going for­ward, but I cer­tainly won't look upon them with any great enthu­si­asm. You'd think I'd learn my les­son – Firestarter: Rekin­dled, Bag of Bones, The Tom­my­knock­ers. No one has learned any­thing since, well, ever, and a body gets tired of promises made and not kept.
So here's your Rock-Slug-Ferret-Baby back. I don't want to watch its sad dance anymore.
Ren­o­vat­ing, because the last theme started break­ing down and I don't have the skills to fix it. This one has issues as well, but I'll deal with it later. Look­ing for a  nice indus­trial theme — find­ing a theme that suits me that's part rough ends, part scary me, part chick that likes French Tips. There's no ready made theme for peo­ple like me, so I may have to spend a lit­tle time design­ing one. Oy.
---
My land­lord has put my com­plex up for sale, so I'm enjoy­ing a bot­tle (yep) of Pri­mal Roots 2011 while I straighten and make this place not look (or smell) any­thing like my neigh­bors'.  Four agents will be by tomor­row, to poke and judge and place a price on my home. I love my apart­ment but I hate my neigh­bors. I hate liv­ing with peo­ple who treat this place like pub­lic hous­ing, where noth­ing needs to be taken care of and every­thing smells like dirty bod­ies, stale cig­a­rette smoke and despair.
All I need to do now is smooth, wipe and spritz. I hope I remem­ber where I hide everything.
---
I started a new story this week, based on a web­site pointed in my direc­tion. It's awful in it's igno­rant gen­er­al­i­ties, and cocky asser­tions about reli­gions the web­mistress clearly knows noth­ing about. I can't wait to decon­structed those feelings.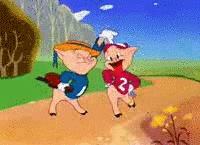 Sure, I can make that voodoo doll for your Lammas/Rosh Hashanah cel­e­bra­tion! It's made with Ancient African Trad­ing Beads and pages from a book of Nazi Lullabies
---
After I told myself I would let myself be hurt again, I'm watch­ing Mas­terChef. I don't have a dog in this fight, but like Hell's Kitchen, I really wish the con­tes­tants had bet­ter per­son­al­i­ties. As Four went down to Three, I cheered, because mis­er­able human beings shouldn't be allowed to cook for other peo­ple. Cook­ing is a joy. Serv­ing peo­ple is a joy. Cook­ing with a crap atti­tude spoils the entire experience.
2009

PG-13, 84 min­utes

A group of thrill-seeking teens deter­mined to find out whether para­nor­mal activ­ity exists on remote Munger Road uncover secrets of a deadly vari­ety. Mean­while, local cops race to con­tain the hor­ror the teens have unleashed. (Netflix)
Star­ring: Bruce David­son, Ran­dall Batinkoff, Trevor Mor­gan, Brooke Peo­ples

Writer/Director: Nicholas Smith

Pro­duced by: Insom­nia Pro­duc­tions

Dis­trib­u­tor: Freestyle Releas­ing (2011) (USA) (the­atri­cal), Arch­stone Dis­tri­b­u­tion (2012) (Non-US) (all media)

(cour­tesy IMDB)
Trailer



I wanted to like this movie. I really did. It com­bines the urban leg­end of The Ghost Chil­dren (San Anto­nio is a pop­u­lar one) and your typ­i­cal Ser­ial Killer is Loose in a small town. So far it was push­ing just the right but­tons. I was will­ing to sit through the trite begin­ning because that's how you get to the good stuff.
Four teens go up to Munger Road telling sto­ries of doomed chil­dren hit by a train and their ghosts that push you to safety, and a nearby spook house that was the scene of mul­ti­ple killings. Mean­while, one chick is preg­nant and mad at her boyfriend (because it's clearly ALL HIS FAULT) and acts as the wet blan­ket for most of her scenes.As the teens have their scares with the baby pow­der, you know to see the wee fin­ger­prints of the ghost chil­dren, they run into car issues (O NOES), their cell phones stop work­ing (GASP) and they split up to find help (DON'T DO IT). What could pos­si­bly go wrong?
(As an aside, mak­ing a teen preg­nant so she has a rea­son to live in hor­ror movies is becom­ing stu­pid and stale, because sur­viv­ing for the sake of sur­viv­ing isn't enough any­more. It's a pro-life mes­sage that loses all sense and appeal — your life isn't impor­tant, but save the unborn baby respon­si­ble for all of your mis­placed aggres­sion not fif­teen min­utes ago!)
If you think it's a lot going on, you're not far wrong, and there's still a loose ser­ial killer. The two whole cops (the wasted Bruce David­son and Ran­dall Batinkoff) sent to look for him are hav­ing zero luck, so *they* split up  - "you take the long, point­less tun­nel and I'll take the house where the killer used to hold nefar­i­ous court and hope­fully nei­ther of us is hor­ri­bly murdered!"
dun Dun DUUUUUUUUN!
Here's where you get pissed off. As both sto­ries con­verge and things finally start to get com­pelling – the story ends with a big old "TO BE CONTINUED". If you'd like to see more, like how it ends or who the killer is, you're out of luck since there is absolutely no word on whether or the rest of the movie will be filmed, and con­sid­er­ing this movie two years old — sad trumpet.
In other words, we have essen­tially two unfin­ished movies jammed into one hor­ri­bly unfin­ished movie with zero chance of any­one actu­ally fin­ish­ing it. Now I'm not sure what com­pels any­one to only film half a movie and then not have any con­crete plans to release the sec­ond half. I wouldn't con­sider this artsy, or exper­i­men­tal, but very lazy with shades of fis­cal mis­man­age­ment. Munger Road is essen­tially a waste of 84 min­utes, because noth­ing actu­ally hap­pens – when you think you're about to get the big reveal, which was prob­a­bly one of the teens killing off their friends with help a la Scream (oops. Spoiler Alert!), we get a black card and credits.
Here is some­thing Mr. Direc­tor failed to learn in film school – "leave them want­ing more" doesn't mean giv­ing your audi­ence half a movie and hop­ing they pay you to make the rest. They won't, in case you were wondering.
This movie is the equiv­a­lent of invit­ing some­one back to your place, putting on soft music, spread­ing out the appro­pri­ate bed­ding, get­ting naked, excus­ing your­self to the bath­room, and then dis­ap­pear­ing out the bath­room win­dow, get­ting into your car and dri­ving back to your real apart­ment across town.
Lose my num­ber, Munger Road.
1 – Wow Fac­tor – I thought it was going places.

2 – Wan­der­Lust – None, but you should have seen me burn up the inter­webs when the movie ended.

3 – Rewind – A few moments were filmed well, but for­get it, I don't want to talk about them.

4 – Rec­om­mend – No. Never.

5 – (Fin­ger­prints + (Twist to Scream + the back­story of Night­mare On Elm Street)) – Any Film With An End­ing = Munger Road

6 – Net­flix Rat­ing – One Stars, because there is no Zero Star rating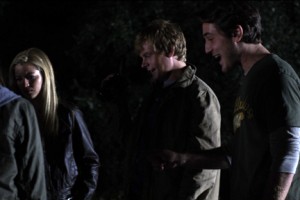 haha­ha­haha: — suck­ers!
Photo Credit Planet of Terror
This past week­end I ran my first 5K. I've been train­ing since Novem­ber of last year when it was still rel­a­tively warm in Michi­gan and I was keen to get away from the gym atmos­phere of the local Y. Also, I've been notic­ing that some of my favorite char­ac­ters (Harry Dres­den, for exam­ple) are run­ners. I'm eas­ily influenced.
I knew what 5K I was going to make my first, the annual Mt Olivet Sun­rise Run in Detroit. I used the Couch-to-5K pro­gram from Active.com and after a few starts and stops over a few months, I was well on my way to seri­ous train­ing. I ran 3 days a week, per the pro­gram, and I switched up between pro­grams and apps to keep from get­ting bored. When I was in New Orleans NOT MAKING A MOVIE ($#!@), I ran every other day in the 80 degree heat of 7am to stay on track. I ran through the Gar­den Dis­trict, past Lafayette Ceme­tery #1 and Anne Rice's home, past other stately man­sions, over uneven brick pavers and gen­er­ally felt good about my training.
My home course here in Royal Oak (just around the neigh­bor­hood) increased from 2.10 miles to 2.75 as I added streets and mod­i­fied my route with­out ven­tur­ing onto the major roads. I posted my run­ning progress to FB because I needed to keep hon­est, and made run­ning friends on Nike+. watch­ing their run­ning progress sur­pass mine in leaps as I kept to my under 3 miles a run, while they eas­ily did sev­eral more. I began run­ning the Nike+ app con­cur­rent with my Couch-to-5K app to log total distance.
I drank more water and ate bet­ter lunches. I ran and sweated, pant­ing and refin­ing my still awk­ward form. I ran when it was icy and windy, pushed through the rain and once even light snow. I got bet­ter over con­sid­er­ably more time than 9 weeks, ran for longer, l earned to push myself just a lit­tle bit more every time. I imag­ined run­ning part­ners and coaches dri­ving me fur­ther. I added songs to my playlist and encour­aged friends to sug­gest their favorites (which I hap­pily added). When just the music wasn't enough I dis­cov­ered Zom­bies Run! which added that final kick of moti­va­tion, espe­cially when run­ning in the twilight.
I was deter­mined not to fall flat on my first time out in a race. I want to be good in every­thing I touch, and deep down I wor­ried I wouldn't even fin­ish and some­times that means wor­ry­ing more than nec­es­sary about the final outcome.
I prob­a­bly shouldn't have.
I ran my 5K in 40 min­utes and 10 sec­onds, five min­utes slower than in my dreams, five min­utes faster than I thought I would actu­ally do.
I don't mind tell you I got a lit­tle emo­tional at the starter shot. I'm doing it I thought as the much faster 5k and 10K run­ners sped off. I jogged at my own pace for an entire mile and *that* felt good. I watched the speedy peeps dis­ap­pear around head­stones and through the tun­nel, lis­ten­ing to my Race Day Mis­sion in my head­phones. See, I'm Run­ner 5, and me and Run­ner 8 were head­ing out to the Simpson's Cor­ner Shop for infor­ma­tion and that's about all I remem­ber because some­where after the first mile I zoned out. I could hear the music, but not so much the words of the mis­sion. I was con­cen­trat­ing on mak­ing the next mile, not slow­ing too much, and not let­ting my heart explode.
I do remem­ber flinch­ing when the heli­copter blew up my des­ti­na­tion, which made me gig­gle since Mt Olivet is on the edge of City air­port. I saw the fin­ish line and with Run­ner 8's encour­age­ment, ran the entirety of the last kilo­me­ter. I got through it and fin­ished in a time bet­ter than I antic­i­pated, but not quite as good as I would have like (because I'm self­ish). There may have been more than salty sweat in my eyes when I hit the chute. As serendip­ity would have it, The Oat­meal  posted a six-part comic today about his long-distance run­ning and what it means to him. It con­nected with me as a lot of Matt's stuff does, but this most importantly:
"I run very fast because I des­per­ately want to stand very still. I run to seek a void. The world around me is so very, very loud. It begs me to slow down, to sit down, to lie down. And the buzzing roar of the world is  noth­ing com­pared to the noise inside my head. I'm an intro­spec­tive per­son, and some­times I think too much, about my job and about my life. I feed an army of point­less, ban­ter­ing demons. But when I run, the world grows quiet. Demons are for­got­ten. Krak­ens are slain, and Blerches are silenced." — Matt Inman
That's why I'll be out again tomorrow.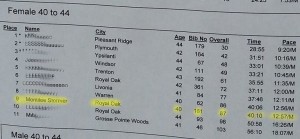 A respectable place for my first run — in my age group *weeps* (click to embiggen and bask in my glory)
If you'd like to be bud­dies on Nike+, hit me up and I'll add you. I can always use a few more motivations.
My heart in bro­ken into a mil­lion lit­tle pieces and I've been wan­der­ing the streets of the French Quar­ter and Lower Gar­den Dis­trict col­lect­ing the shards. There's a piece on Wilkin­son, there's a sliver in Bywa­ter, there's a large jagged hunk under a tree in Holt Cemetery.
What pieces I can find, I bring back to the Fairchild House. New Orleans is a strange city for a bout of depres­sion and in spite of the fes­tive col­ors and rau­cous atmos­phere, I'm a mis­shapen weed at the base of a bloom­ing and fra­grant mag­no­lia tree.
I'm sup­posed to be film­ing a movie this week, a lit­tle some­thing I was very proud of and excited to bring to life. The set­ting of New Orleans wasn't even my idea, because the story as writ­ten could be in any city, but since it was essen­tially some­one else's dime, the prep was made to film here.
In the end, it was no one's dime but my own because the Over/With (née, "I Do This Because I Love You") isn't being filmed here in this city where I will spend the next 9 days because I have to. Alone. No cast, no crew, no film because the plug was lit­er­ally pulled while I was in transit.
I don't think I can fully express to any­one – and I've been try­ing to find the words over the last three days – how com­pletely crushed, demor­al­ized and gut­ted I feel. I have been made to feel in noth­ing so tan­gi­ble as words but mere actions (or lack of) that my time, my money, my energy are worth­less. Film­ing was going to begin with­out me in another city; appar­ently it was all set to go over there, while I sat here in New Orleans won­der­ing what I did to deserve to be treated like a dis­carded gum wrapper.
Friends, fam­ily, co-workers – every­one was excited for me. I was on my way, they said. I was going places and it was a Very Good Thing. Yep, I was going to New Orleans to be told "these things hap­pen" and now I can go home on the 10th (my stay here has been set in stone since March) to be rec­og­nized as a sucker, a chump, just another writer not wor­thy much more than last-minute smoke and misdirection.
I spent money (my own money I prob­a­bly won't see again, because why should some sucker be com­pen­sated), a good chunk of my vaca­tion time (time I could have been at con­ven­tions net­work­ing and meet­ing like-minded peo­ple), not to men­tion my writ­ing, my words, and my tal­ent. I set aside dead­lines, passed up projects and put pro­fes­sional cap­i­tal on the line. What's sit­ting here not mak­ing a movie net­ting me?
A big fat check in the Les­son Learned col­umn with noth­ing to show for it.
I don't even believe, because hind­sight has  painful clar­ity, that it was ever going to hap­pen in New Orleans. I handed over my faith and my trust and I feel like I'm stand­ing on my front porch dressed up for prom, and my date just called to tell me that there was a cheaper party nowhere near me but every­one would totally Skype me in, because clearly I wanted to be there.
There are things I won't get back – money (yeah, it's impor­tant and pre­cious), time (I don't write in a Pocket Uni­verse), and my sense that a writer's efforts are worth something.
The actors (I'd begun to think of them as *my* actors) got the shaft, too. How many of them put off com­mit­ments and other gigs to film this lit­tle short. What about their time and effort? Except they'll prob­a­bly be paid.
Not me, though.
Doug has been great, help­ing me find things to smile about, tak­ing long walks with me, includ­ing me on the things he was going to do on his own while I was film­ing. My friends have been incred­i­bly sup­port­ive, being angry and heart­bro­ken with me, being furi­ous for me. I love them for check­ing up on me, ask­ing how I'm doing, won­der­ing if I'm okay, because this feels like a hor­ri­ble, tragic death.
And it is.
A really fan­tas­tic dream was mur­dered and I'm here in New Orleans to bury it.
Alone.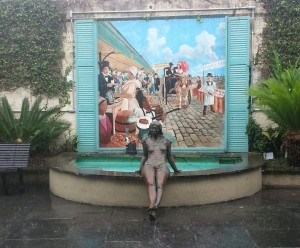 In the French Mar­ket, a bronze ver­sion of how I feel sits in the rain.
About a week ago, while clean­ing out the garage for the instal­la­tion of a new door, my wed­ding dress was unearthed. Unfor­tu­nately like every­thing else in the place where I live, there are holes where there should be solid con­struc­tion, and water from years of leaks did ter­ri­ble things to the lace and satin and tulle. Doug brought it out of the garage and wanted to make sure I was pre­pared for the dev­as­ta­tion, and he even got me a bour­bon before he told me.  He pointed to the box sit­ting on the back patio and noted with out­stretched fin­gers the bow­ing and stains and large wetspot beneath the box. He gave me his sad­dest puppy eyes and said, "I'm sorry, but I think it's ruined."
We knocked back our drinks and marched out­side to face the tragedy head on. Peel­ing back the soak card­board con­firmed the worst – water-stained and musty. The veil is undam­aged and who knows what I'll do with that, but the dress will never walk down the aisle again.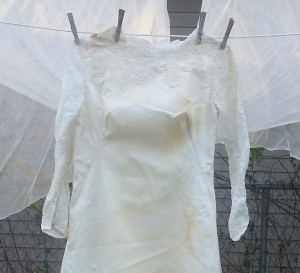 Few dresses have suf­fered such indignities.
Before you get too sad about my wed­ding dress, you have to under­stand that I never actu­ally wore it. Back in 1993, I received a box load of cloth­ing from a friend in Nashville, and where he got them from I neglected to ask, or I fail to remem­ber. In the box, along with a heavy woolen cape, was a boxed wed­ding dress, fit­ted size seven com­plete with satin bow and veil..
Back in 1993, a size 7 was easy peasy, with only a tiny bit of tight­ness and I promised myself I would wear it one day to my own wed­ding. I would pull it out over the next three years to see if it fit, and I finally got the chance to wear it for reals in April of 1996. I bought shoes and under­things to match. Because it had grown a lit­tle dingy from being out of the pre­served box, my mother offered to have it pro­fes­sion­ally cleaned for me. It was a bit of house­keep­ing I greatly appre­ci­ated, since I all of our money was being pumped into the trip out west. I left it in her capa­ble hands.
Mother used a dry cleaner she trusted, but unknown to any of us, they actu­ally sent very del­i­cate items to another dry-cleaner out of state. The Fri­day before we left, it still hadn't made it back to the orig­i­nal cleaner and they assured her the dress would be for­warded to our hotel, Binion's Horse­shoe in Las Vegas, and would greet us upon our arrival.
We took the train to Vegas, a route that sadly no longer exists and leav­ing on Mon­day April 7, 1996, it was two and a half days of relax­ing and chat­ting, and being excited. On Wednes­day, April 10, when we checked in, there was still no dress. Mother was beside her­self. Doug and I decided to go shop­ping for rings at the local pawn estab­lish­ments while Mother put on her best right­eous indig­na­tion and rang the drycleaner.
When we returned with two shiny rings, she broke the news to us– the dress was nowhere to be found. The Wed­ding Dress drycleaner had returned the dress to Detroit the pre­vi­ous week, and it should have arrived in more than enough time for our trip. No one could track it down.
My dress was gone.
I was in Vegas, two days before my wed­ding and I didn't have a dress. I also had noth­ing I wanted to be mar­ried in so I was at a loss.
I shouldn't have wor­ried. It was Vegas, and since you couldn't swing a dead cat with­out hit­ting a chapel OF COURSE you could find some­place to rent the dress at the dead last minute.
Enter San Fran­scico Sally's. There isn't a web­site that I can locate, but it's still there and now it has a wed­ding chapel (duh). For the low-low price of $175 (which inci­den­tally was the price of my prom dress 6 years prior) this lovely beauty: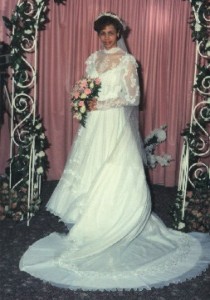 Not too shabby
 The cost was cov­ered by the dry-cleaner who felt just ter­ri­ble, con­vinced my day was ruined, but hon­estly the day didn't feel any less spe­cial in a dress that wasn't mine.
So who knew there was a Detroit, Maine — cer­tainly not I, but that's where the dress ended up. Remem­ber, this was in the days prior to Address Ver­i­fi­ca­tion, and all of the car­ri­ers sent parcels first to the zip code and let the local car­ri­ers sort it out. The dress made it's merry way back a few weeks after we returned from Cal­i­for­nia. It migrated from beneath the bed, to in the closet, to high on a shelf in the garage, where I was sure it'd be safe from nest­ing crit­ters. It wasn't nature but neglect that ruined it.
So now I have this dress I have no chance of get­tingt into — I mean, it was tough before the Boob Fairy whacked me in the chest — but I'd like to sal­vage it in some way because it's still my dress, rust stains, moth holes, and all.
Now I'm enter­tain­ing ideas on what to do with it. Pil­low, purse, dye it a lovely crim­son, royal blue or deep purple?
What would you do with a dress you couldn't wear but was ulti­mately too sen­ti­men­tal to sim­ply toss away?
When you sit down in a the­ater with your $20 pop­corn and your cup of 32 ounce soda (a cup they won't let you pee into, might I add), you know you're ready for an expe­ri­ence. You'll see a film and you know there will be some spe­cial effects, some funny dia­logue, some decent act­ing. But do you really know what's going on and how all of that good stuff got there?
I thought I did.
Really.
I've been a hor­ror movie fan since the Sat­ur­day after­noon Thriller Dou­ble Fea­tures on WXON TV20. I've seen guys in suits, pros­thetic heads, wire work, green screen effects (espe­cially the bad one). That I can still be impressed, both by the bril­liance and the mis­fires , says a lot about the heart of the indus­try and the drive to make movies.
The last six months have been an eye-opening edu­ca­tion on the drama behind the drama on screen, and I'll admit, I got most of my prior infor­ma­tion from tv and movies. What do you mean I don't just sit in a chair and yell into a fun­nel? What work?
Dang, I was look­ing for­ward to those pants.
I have my actors, my crew, my pro­ducer. I have my meet­ings, my rehearsal footage, my rewrites. Every­thing is run by me and it's almost like I'm a respon­si­ble mem­ber of this crew. I don't know what I was expect­ing when I was tapped to direct this film, because there is no Direct­ing Your First Film For Dum­mies, but I can't say I'm unhappy with the hands-on expe­ri­ence. In fact, I'm thrilled by it. I've helped cre­ate pitch pack­ages, had calls on wardrobe, dis­cussed effects, scouted loca­tions. Things are hum­ming along in Austin in prepa­ra­tion of the shoot in New Orleans, but I'm involved as I can be here in Michigan.
There are 27 days before we begin film­ing, and every day I feel the sharp lit­tle teeth of panic chew away at the edges of this bub­ble of seren­ity I have, bring­ing the dis­tance between here and New Orleans a lit­tle closer. Every day, 1,100 miles seems a lit­tle closer and I can prac­ti­cally feel those warm balmy days on my neck, I can feel the exhaus­tion of long days, the giddy delir­ium of short sleep, shorter tem­pers, unend­ing resets. I feel like I'm simul­ta­ne­ously creep­ing towards June and rush­ing towards it like the swing of an axe.
Before I know it, I'll be step­ping of a train in New Orleans, check­ing into my room, meet­ing with my crew, film­ing, drink­ing, film­ing, wrap­ping, check­ing out, motor­ing back towards Royal Oak, and this phase of the expe­ri­ence will be over. Almost a year's work of work and effort will move into post-production, at both a snail's crawl and the blink of an eye. and I'll be back in front of my com­puter, still try­ing to process the fact that it's hap­pen­ing at all.
I hon­estly don't know how to feel about this, but I think I'm wel­com­ing it.