For decades we've had vampires, werewolves, Jason, Freddy, and Michael. And now zombies have gone all Hollywood.
Out of a need to figure out what is the next classic monster, publisher and lifelong horror enthusiast Gerald Dean Rice has assembled this fresh and downright disturbing collection of short stories featuring some of the most clever and imaginative horror writers of the day including Tim Curran, Jeff Strand, Armand Rosamilia, Rebecca Besser, MontiLee Stormer, Lee Moan, Tonia Brown, Jake Bible, Faye McCray, and Jimmy Pudge. Inside, the diverse cast of contributors introduces new breeds of monsters such as sentient sex dolls, anti-zombie terrorists, suicidal cultists, the woman who can smell sin, and more. These monsters come alive within the pages, and they are blow-your-mind frightening. They are just what the horror world needs. They are Anything but Zombies!
I wanted to show a little podcast love to my favorites, since my sister gets so jazzed when I recommend a new one.
Music when I work is a little distracting, but I find I can listen to news and story podcasts running as background processes. I still absord the information and it blocks out loud people around me.
I have a serious true crime bent.
I'm subscribed to the following and can endorse them for their entertainment value. I've included links to their websites, and you can subscribe via your favorite podcast sniffer. If you enjoy them, leave a review on iTunes as well as your own platform so more folks can find them.
True Crime
Criminal (thisiscriminal.com/)
"Criminal is a podcast about crime. Stories of people who've done wrong, been wronged, or gotten caught somewhere in the middle. "
Crime Writers On (www.crimewriterson.com/)
"We're true crime authors. We're also married. (Well, at least Kevin and Rebecca are.) So of course we decided to start a podcast.
The show is called Crime Writers On… and it all came together when we got some fellow writers together discuss the blockbuster podcast Serial. It's since morphed into a broader conversation about true crime, journalism, and pop culture"
Undisclosed (undisclosed-podcast.com/)
"The Undisclosed podcast investigates wrongful convictions, and the U.S. criminal justice system, by taking a closer look at the perpetration of a crime, its investigation, the trial, and ultimate verdict… and finding new evidence that never made it to court." Season 1 – Adnan Syad
Season 2 – Joey Watkins
Deathcast (https://deathcastpod.com/)
"Kelsey 'Kelso' Eriksson is fascinated with death and researching things that interest her. This is her first time Podcasting, so be nice.
She lives in New England with her twitch-streaming, video game connoisseur husband, Sean (@deanmcknight01), and their 7 year old son, Bee."
In the Dark (www.apmreports.org/in-the-dark)
"AN APM REPORTS PODCAST. A podcast about a 27-year child abduction investigation that changed the nation."  This podcast explores the 1989 abduction and murder of Jacob Wetterling, and the absolute  mishandling of the investigation by the Sterns County Sheriff's Department.
Entertainment
These are Their Stories (http://www.lawandorderpodcast.com/)
"It's no ordinary police procedural, baby. It's the f'ing OG of police procedurals, baby.
IN THE CRIMINAL JUSTICE SYSTEM, THE PEOPLE ARE REPRESENTED BY TWO SEPARATE YET EQUALLY IMPORTANT GROUPS: THE POLICE, WHO INVESTIGATE CRIME; AND THE DISTRICT ATTORNEYS, WHO PROSECUTE THE OFFENDERS.
WE'RE IN A THIRD, TOTALLY UNIMPORTANT GROUP: THE PODCASTERS WHO SAY, '…THESE ARE THEIR STORIES.'"
Lore  (www.lorepodcast.com/)
"Lore is an award-winning, critically-acclaimed podcast about true life scary stories. Our fears have roots. Lore exposes the darker side of history, exploring the creatures, people, and places of our wildest nightmares.
Because sometimes the truth is more frightening than fiction."
Welcome to Nightvale (www.welcometonightvale.com/
"WELCOME TO NIGHT VALE is a twice-monthly podcast in the style of community updates for the small desert town of Night Vale, featuring local weather, news, announcements from the Sheriff's Secret Police, mysterious lights in the night sky, dark hooded figures with unknowable powers, and cultural events.
Turn on your radio and hide."
Within The Wires  (www.nightvalepresents.com/withinthewires/ )
"Set within an alternate reality, "Within the Wires" tells stories in the guise of instructional audio programs. Season One, "Relaxation Cassettes," is a 10 part scripted fiction podcast that takes the form of an audio course on full body relaxation issued by The Institute to you, (the listener) a nameless medical inmate. Who is this narrator? Is she relaying something more than just relaxation techniques, and is she to be trusted? And are there subliminal messages hidden within the music? As listeners move through the relaxation curriculum a deeper and more personal story unravels."
Alice Isn't Dead www.nightvalepresents.com/aliceisntdead/
"A truck driver searches across America for the wife she had long assumed was dead. In the course of her search, she will encounter not-quite-human serial murderers, towns literally lost in time, and a conspiracy that goes way beyond one missing woman.
The complete Part One available now. Part Two coming in 2017."
I know what you Did Last Podcast  www.iknowwhatyoudidlastpodcast.com
"Welcome to I Know What You Did Last Podcast, a celebration of the pop culture of our youth! So in other words, the 90s, early Aughts and some late 80s because we briefly remember it. That and whatever else falls out of our mouths."
Honorable Mentions:
Limetown (www.limetownstories.com/)
Ten years ago, over three hundred men, women and children disappeared from a small town in Tennessee, never to be heard from again.
In this seven-part podcast, American Public Radio host Lia Haddock asks the question once more, "What happened to the people of Limetown?"
Season 2 is in production. People may ask why Limetown and not The Black Tapes, and it's because I just don't like Alex Reagan character. I just don't.
The Thrilling Adventure Hour – (http://thrillingadventurehour.com/)
I'm particurly fond of the Beyond Belief episodes, with socialite mediums Frank and Sadie Doyle.
What podcasts do you like?
I had my first mammogram Saturday. I'll be 44 next month and my doctor decided it was time to have each boob indivually squeezed for lumps and parasitic twins. I only know mammograms from horror stories told by friends and older acquaintances. It didn't sound pleasant and I was looking forward to avoiding it for another few years. I did my research on what to expect and came to the conclusion it wouldn't be so bad. After all, I have a tattoo down my spine and that took nine hours. This would take 10 minutes tops, and for the majority of that I'd be standing around waiting for adjustments and paperwork. I would be fine, I told myself.
My initial paperwork, which had a boob in a quadruple profile like a Mammary Janu, said to schedule my appointment until after my period. I, like a lot of women, take on water like the Titanic. This was sensible advice. So I waited until after my period to make the appointment.
I know.
So almost two weeks later, I made my appointment for the following month. I was fine with whatever day they picked, so long as it was on a weekend. I hung up with the receptionist and entered it into my calendar. In jotting down the address I re-read the line about scheduling it after my period and it dawned on me.
They meant to schedule it for after my period, not be a dumbass and wait until after my period to schedule it.
Saturday, 3 days before my next period with boobs like casaba melons I arrive warly. I'm already uncomfortable but I'll live. I slip into my gown and I can't remember if the nurse told me to put it on backwards with the opening in the front, but that's what I do because it makes the most sense. There's no one to ask, so like every other crappy thing that's happened this week, I let it go and resolved to just deal with it. The futility of tying  the gown closed not stopping me from making an unreasonable effort.
I filled out yet another family history form and then paced the waiting room. I was the only one in there so it was mostly aimless roaming. There was no coffee made or water station, but there was a bowl of wrapped saltines.
I've recently recognized I'm a stress eater, and I know that if left to my own devices for longer than a minute, I would have just crammed extra crackers into spare gowns and slipped out a back door. I'm sure there was a good reason for a bowl of saltines by the coffee machine, and I also knew they were not for me, but I helped myself anyway. I pop the first cracker in my mouth and it's dry and crunchy and I swallow it down the best I can. I'd just put the second one into my when the Tech called my name...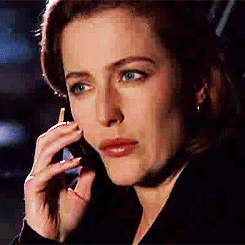 I know. I'm 43 and simple adulting in a waiting room is especially hard today.
The Boob Wrangler tech was friendly and expressive and she walked me through the whole process. She understands a lot of women have issues with or are afraid of traditional mammograms and she wanted me to be comfortable. I can appreciate that but it didn't alleviate the fact that it was chilly in radiology and if she wasn't careful she was going to lose an eye.
We get started, which was mostly her adjusting the height of the machine and then molding my breasts to lay just right. Good luck, lady. I do that every morning and I can never get them to sit up straight.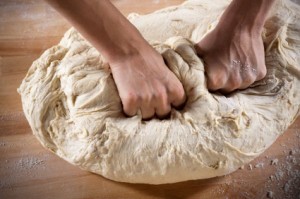 She took a total of five pictures – one each horizontal and three vertical, one with the cooperative right, and two with the squirmy left. The top-down was more comfortable than the side to side. I hope that m eans that when I'm 80, I won't have the pleasure of just rolling up my boobs like tube socks before tucking them into my pants pockets.
This woman has a job squeezing breasts between glass plates all day. Not an easy job, but she was light and professional. Despite trying to having to wrangle two uncoorperative sweater puppies. I don't mind telling you thougj, I'm still a little sore. I blame the rib meat that was giving her trouble.
Why am I telling you this? Because it's my blog and I can do what I want. I miss telling stories and if I have to start with breast health and my trip to Radiology, then that's where I start. We don't pick the starting points of our journeys, we just find suddenly ourselves walking.
What else have I been doing?
I'm still a reviewer for Film Obsession, and this week alone I've put words down for The Girl In The Cornfield and written about a new Detroit/Toledo OTA station, called Comet TV, specializing in classic sci-fi, horror and exclusive content. There's a giveaway, and you'll want to check that out. I'll have a mini review of Shut In (2016), I Am The Pretty Thing In The House (2016), as well as a recap of Fox's The Exorcist (FOX).  If you're interested in any of my other reviews, this link will help you find them all.
So when people ask me how I'm doing, I can say I'm staying busy. In light of recent events, it's the best I can do.
(if this looks familiar, it's because I post a version of it every year)
It was 20 years ago today that Douglas Stormer married MontiLee Points in Las Vegas, Nevada.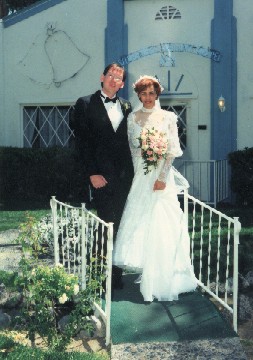 We had saved up our money for over a year, planned two and a half days on the train, three days in Vegas and one week in Santa Rosa, CA. We had our license, our chapel, my mom.
My dress never arrived, but this is Vegas and you can get anything. We rented our spiffy outfits from San Francisco Sally's, a wedding rental joint on LVB. For one day (and $175.00), I got to be a princess.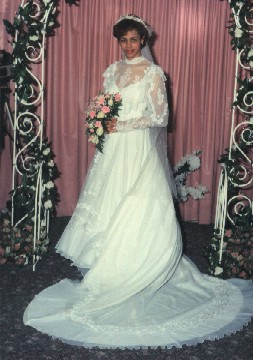 Inside the chapel reception area, there was another couple a tall, leggy Blonde with a shorter, balding gentleman. We all exchanged nervous, embarrassed looks. She wore a white mini-dress, that was summery without being slutty and she gushed over my gown. I said she looked nice too, and she told me that this was all so sudden for her, but sometimes you just know when it's right. I nodded. She said she couldn't stop throwing up, she was so excited. I took a small step back. There was a $500.00 deductible on the dress that I couldn't afford to pay should something happen to it.
There were flowers waiting for us from Doug's brother Jere. It was like his family was there with us, too.
When we arrived, we were ushered into the back area to prepare – my dress, my shoes, my veil, my mom. It was like my prom all over again – new underwear, new stockings, a garter that matched the dress that neglected to follow us from Detroit but would work okay with this one. My mom helped me get zipped and primped, pinned the veil in place, and cried a little. That got me started and we were bawling before we made it to the chapel doors.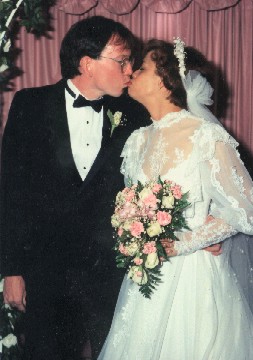 There is always that moment before the service, when you serious begin to think about what you're about to do. What if this isn't the one? What if I can't live up to what he needs? What if…? What if…? Then the music starts and all you can think of is putting one foot in front of the other, and
goodness was it always this warm in here …

that arrangement looks like we just won the Belmont Stakes …

if every man would wear a tux every day, dating would become obsolete …

the earth is spinning without me …
getting down the aisle without tripping on the dress. The event was being video taped, so whatever stupid move I pulled would be recorded forever and ever, played back for family and friends and blackmailers for eternity.
Doug whispered to me, "Don't cry – we're happy," and we were. We are. As the manly men on the TV say after big wins in sports, "our eyes were moist."
I made it down the aisle without tripping or throwing up or passing out. Mom gave me away, witnessing her eldest daughter's wedding. The minister made my name sound exotic, and I had never been so happy to be saddled with it. There could be no other name that rolled off his tongue like warm honey.
We did it. Said our "I Do's" witnessed before my mom and the minister, and whichever god wasn't dozing in the warm April sun.
Afterwards there were pictures, and the photographer complained (half-heartedly) non-stop about my train. Us girls and our trains were going to be the death of him, he said.
Because everything is a gimmick in Vegas, as thanks for choosing the Silver Bell Wedding Chapel in Las Vegas Nevada (**see note below), we were given two etched champagne flutes – one says Bride and one says Groom – and a chilled bottle of Champagne. We still drink from them every year.
The chapel sent the negatives of our photos a year later, claiming that there was a storage issue and we could either keep them or toss them. I'm glad we kept the proofs because they only managed to send us the negatives of 7 of our photos – the other 5 are of the couple married behind us.
I hope they are as happy as we are.
We've now been married longer than most people I know, including my parents.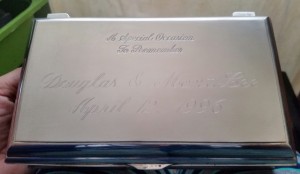 The last twenty years haven't been a completely ant-free picnic, and lord knows there are days where it just doesn't seem worth it.  You get complacent as time goes on, take things for granted, and you can forget that the person spiritually bound to your ring is a human being with dreams and fears and hangups that are going to drive you crazy. Sometimes, it feels harder than it should be. Marriage is compromise. It's also saying yes, because it makes the other happy, and saying no, especially when it breaks your heart to do it.
This union isn't perfect, but it wasn't meant to be, because perfection is complacency, and I appreciate something more when I have to work for it. I may not always like the work, but the rewards like a smile or a laugh or a soft sigh more than make up for the callouses.
We take it day by day and appreciate everything we're given, because not everyone is as fortunate. Love is loss and sorrow and saying hello to a face that has shown you tears and smiles and anger and joy and fear, and being certain the day you'd have to say that final goodbye would break you  into a million pieces.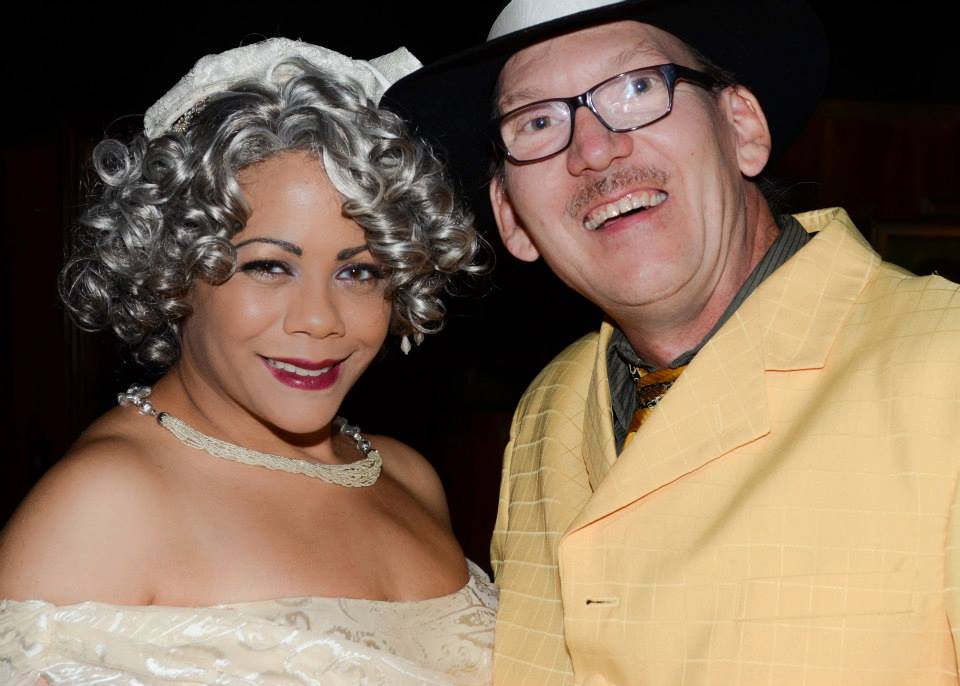 **In 2002, the Silver Bell Wedding Chapel burned to the ground. It has since reopened under new Ownership as the Mon Bel Ami, and we'd like to make it out there one of these years and do it all over again. I looked at the wedding packages and our package (now with silk flowers) costs the same $250 as is did 20 years ago. If I want the real flowers, it's only $50.00 more.  We'll probably make serious plans.
Twenty years, and counting…
When I tell people my cat is lying in state in the living room, I get weird looks. Loki was a large cat, likely with Mackerel Tabby and Maine Coon in him. At his largest he was 22 pounds but with a firm hand and a reduction of treats we got him to a more manageable 18 pounds. Up until 2 years ago, he was housemates with Zeus, who lived to a ripe old age of at least 23 before succumbing to cancer. Before Loki, Zeus was housemates with Toby, who at the age of 9 developed an idiopathic condition that caused his chest cavity to fill with fluid. Toby and Zues, Zues and Loki, Loki and Pumpkin, a rescue we adopted about two years ago. We have always been a two cat household. They're our family.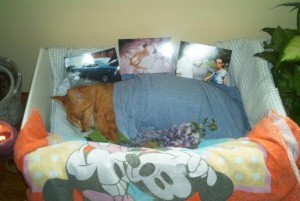 When Toby died, we brought him home to be buried, because we couldn't afford individual cremation. The vet bills alone put us into debt. While I waited for the local Miss Dig service to mark off the utilities so I wouldn't electrocute myself or blow up the neighborhood hitting a gas line, we held a wake. People, friends, family, neighbors, stopped by and paid their condolences. By the third day the hole was prepared and I buried him 4.5 feet down, per local ordinances. He's still there.
When Zeus died two years ago, we were in a better financial position, and we'd made the decision to not spend money prolonging his already full life by expensive means. We look at the options and decided on a basic urn, knowing we could always upgrade later. The 10 minutes we were allowed in the vet to say our goodbyes after his final shot were all we got. There was no funeral or wake for Zeus. For days we thought we could hear his nails clicking across the floor or feel him pulling himself onto the bed. It was hard.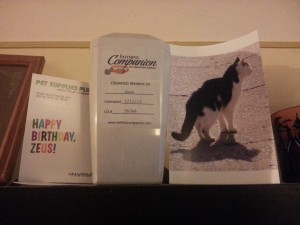 A few days later, we picked up his cremains and put them on the shelf. We lit candles and cried. He was home.
Loki's turn had come too soon, and very fast. We knew he had liver failure, and he was down to 8 lbs. He was weak and unsteady. The vet gave us steroids for him, and we knew that our time together would be wrapping in days, not months. It was about a week and change. We made the appointment, went back and forth on whether or not to extend it. He could get better, was the hope. The night before, I even bought food to last another week and a half, because at heart I'm an optimist, and I wasn't ready.
During that final week on a mild for January night, on one of his last really good days, D took Loki outside on a short walk around the building. Loki was a good cat like that and he knew where all the rats were. Loki made his way to the dumpster and just sat. Very shortly a rat came out and with four feet between them, they stared at each other, two worthy foes, meeting for the last time. Then the rat left, and Loki came inside.
I spent all weekend with Loki. He lay in my lap, got everything he wanted – all he pets, rubs and scritches. All the treats and food. I cried a lot.
Monday was hard. I knew when I left, I would be coming back to a home with one less cat, a cat that had been my buddy for 14 years. As I stood there and sobbed once more before heading off to work, I looked down to see him, and he was looking up at me as if to say, I'm right here, mama. I'm not gone yet. Many more kisses and scritches before I left.
I took the long way into work.
I could have made a call of reprieve, but for him to suffer a few more days while I waited for convenient time off seemed unusually cruel. His body was shutting down. As if summoned by Cat Deities, friends stopped by and gave D a ride to the vet, just a few blocks down. It happened without me, but it was for the best. The last few hours at work were hard. I just concentrated on the road and knew I could fall apart when I got home, instead of on the highway where people could die.
I came home to a sad, but lovely surprise. D had asked the right questions at the vet and filled out the right paperwork. He met me in the driveway and we walked inside together.
Loki was in his favorite spot under the window, in the cat tree/bookcase we built for him. His treats, a candle and a Coke bottle we had made just for him were on the window sill. He looked like he was waiting for me to come home. D did a great job. Loki looked great. KABL played quietly in the background. D said it was Loki's favorite station.
We raised our glasses toasted Loki and cried. He lay between us in his tree while we sat at our desks and worked and talked and cried some more. This seems morbid and macabre, but it was very comforting. I could reach over and pet his feet, and feel his soft fur like I always did when he hopped up. I could give him scritches and kiss his forehead, something he barely tolerated. We would lean over periodically and whisper secrets to him. Loki was very good about secrets.
Hey, did you know you're the best cat in the world?
You'll always be my battle cat.
I'll love you forever.
No different really than a wake in a funeral home. People are funny about death. They find it gross and uncomfortable, can't believe anyone would touch a dead body, as if death was a contagious condition.
I hate to break it to them – we all have death, and in the end it will kill us. That shouldn't stop us from expressing emptions and affections one last time before the final goodbye. Not for everyone, no, but being so far removed from death as we are in modern society, it's no wonder it makes people uncomfortable just mentioning it.
The reality is petting a dead cat reminds you there's a dead cat in there, so concerns that we're deluding ourselves into believing he's still alive are ridiculously invalid. His fur is soft but his body is cold. His tail is fluffy, but his limbs don't move. Rigor sets in about an hour after death depending on conditions and lasts about 12 hours in cats, so it's not like we were cuddling him. Like Gramma at the funeral home, Loki is never going to watch movies with me again, or paw at my feet for stray bits of chicken or wait on the bed with me for Sunday morning breakfast. Unlike Gramma, I don't have to reach far to pet him and say all of the things I need to get off my chest about my cat. He's right there.
Wakes aren't for everyone, obviously. People don't like grieving in public and they don't want to feel as if they're burdening others with their sadness. You know what. I'm sad. I'm going to be sad for a long while. I won't "burden" you with my sadness, but I sure as heck am not going to pretend to be happy, either.  Dealing with me is dealing with my grief. He wasn't just a cat to us. He was our Loki and this is how we're saying goodbye.
Tomorrow afternoon, Loki will take his final car ride to Faithful Companion to be cremated. Depending on their schedule, maybe we'll stay, but likely we'll pick him up the next day and he'll join Zeus on the shelf to be with us always.
Maybe other people think pets are disposable creatures, barely worth feeding or providing shelter for, but my pets are my family. They're little men with big personalities. They talk to us and play with us and remind us that we are more than single entities working to paying bills, put up with stupid people and then dying. We often don't understand each other, but they are sentient creatures who deserve as much love and respect as we would give any one that meant the world to us. Any time you are greeted by a furry family member, you are reminded that you've been entrusted to keep that life safe and happy and it's your duty to fulfil more than their basic needs. You have to love them, and they give more than that back.
That's why we had a wake for Loki, and when the time comes for all of our cats, if possible, we'll have wakes for them too. We need this time to say goodbye to our loved ones, with final rubs and final whispers. We will always have more to say, and while we think we have their whole live to say it, those final quiet moments are sometimes the most precious.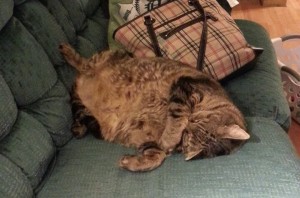 The days of me aimless searching for random internet stories is unfortunately behind me, which is a shame because so many ideas came from news articles, but here's one I can't pass up posting. I followed breadcrumbs, see, and I don't know where I am, and it's getting dark, and I'm hungry…



Luk Thep are believed to possess a child's spirit and bring good fortune, thus many Thais have taken to treating them like real kids.




The internal Thai Smile memo, being circulated among Thai media, says the dolls have to be buckled up like human passengers and will be served snacks and drinks.




As with real children, they're barred from sitting in exit rows.




Contemplate this, Friends: dolls that possess the spirits of children, but are good luck.
Because what toddler melting down because the wind changed doesn't bring good luck to all within earshot?
I did some digging, because clearly this idea didn't just appear organically on the internet. I followed some links, did some reading, went to the bathroom and cried a little.
In Thai folklore, a Kuman Thong is a household divinity – I'm guessing like a kitchen witch, or maybe even a Brownie. According to hastily researched sources, a long time ago in a lang far away, necromancers used to take the body of stillborn infants, dress them in a neat oil called Nam Man Phrai (honest to goodness baby oil – from babies).
reads more
"This is much less common now, because this practice is now illegal if using fat from human babies for the consecrating oil."
dangit
Onward: in an elaborate ceremony, the practitioners create homunculuses (homunculi? homunculeese?), by drying the bodies, anointing the forms with oils and wrapping them carefully in expensive silks and gold, creating essentially a fetish or amulet. Then a child's soul is bound to the form, creating a Kuman Thong ("golden boy"), or if you desired a female child's spirit, a Hong Phrai, to bring you fortune and success.
Much like an actual child might if they stayed in school got all the right breaks became a successful individual who didn't despise his success-driven parents.
You can still find these curios if you look hard enough and are willing to go to jail if you're caught trying to smuggle them out of the country, but the modern method is to use carved wooden dolls, or in today's fast-paced gotta have it now mindset, a doll created in a factory and, I dunno, my mind is reeling with how "loose" souls are obtained for these mass-produced Luk Thep.
There's a story in this, and it's creepy and unsettling. Not so much the fetuses or the dolls themselves, (whatever, my stuffed animals protect me from everything) but the idea that these vessels contain the souls of children. I mean, what do they ask for in return? A shrine of juice boxes? Tribute piles of Cheerios? A TV in the alter room that shows nothing but Sponge Bob Square Pants?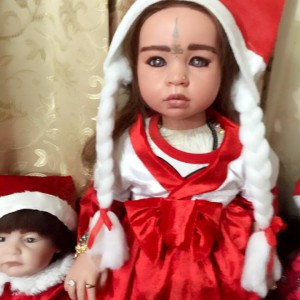 But oh wait, it gets much, much worse.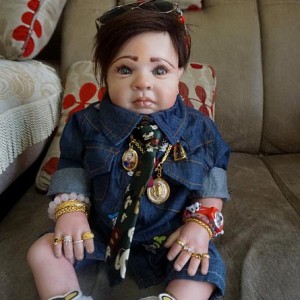 See, the creator of the now trendy accessory, Mama Ning, was inspired by the first one she created, like the creepiest DIY you'll never see on Create.tv.
Observe:



Petch was her first and favorite doll because she infused it with the spirit of her son. Three years ago, when he was 17, she was at her wits' end with his bad boy behavior. So she placed the amulets and charms he loved inside the doll, and it awakened. She starting treating Petch like her child, carrying him around and taking him to make merit at the temple, in hope that her teen at home would change his ways.




According to Mama Ning, it worked.




Her son started improving his life and eventually moved out and got married. Now doll-Petch is sporting gold rings on every finger as a reward for bringing in the money for Mama, and their relationship has become stronger than ever.



A moment, please. Petch is infused with the soul of her living son. Maybe Thai souls are different and can make anything they come into contact with "infused", while still remaining whole, like a clove of garlic or a stick of cinnamon that's good for several cups of tea. But this – and even as a novice dabbler of the arcane – this seems soooooooooooo…
…
…
…draining on the original soul.
I know doll babies are used in a number of ceremonial rituals as a binding, but mass-produced on this scale – are there really that many free-floating souls just waiting for a vessel to contain it and bring you everything you could every want?
Western magic says no.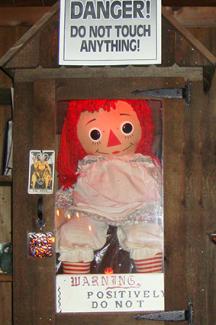 …take the time to make it fun.
"I'd like to create an antigravitatory cat, capable of infinite spinning thereby creating a multidimensional black hole. I would step through, establish myself as an unimpeachable godhead and rule as a benevolent dictator. My moral quandary: is this animal cruelty or simply a waste of butter?" **
A question I just posted to phoebejudgeme.squarespace.com